While quite a number of folks are adding comments (also called "replies") to the original posts of others, relatively few are starting "front-page" threads like this one themselves. Since it is not difficult to do, here are some directions to help you along.
To add an original posting to RoaneViews, so that it is not just a reply to someone else, but instead gets "front-page" status at roaneviews.com ((link...)):
1. Sign in if you haven't do so already. This will give you a personal menu in the left-hand column headed by your user name.
2. In your personal menu on the left, choose "Create Content."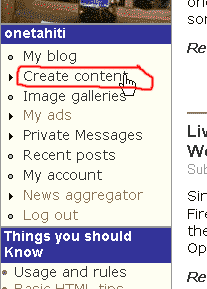 Next, on the Create Content page, choose "Blog Entry."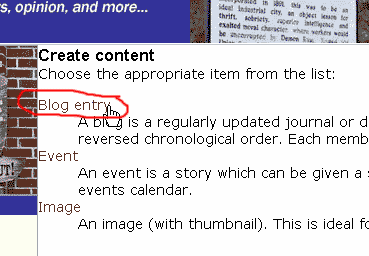 This will bring you to your "Submit Blog entry" page.
Don't worry about it being called a blog. You won't be stuck being some official blogger. That is just what the RoaneViews software calls your list of original posts. It isn't really a blog unless you want it to be.
3. Once you are in the "Submit Blog entry" page, fill in the form. It looks a lot like the form for replying to someone else's post.
How to fill in the Submit Blog entry form
1. The form has a place for the "Title" you want your new "front-page" article to have. Make sure you enter a title.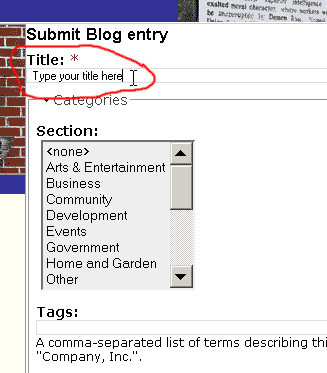 2. OPTIONAL. The form also has a place for you to choose the category you think best describes your new message. Highlight the category that suits you best.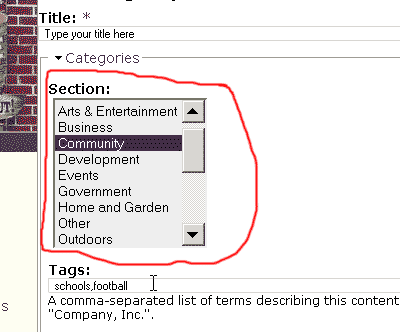 3. OPTIONAL. Next is a place to add keywords (called "Tags") for your message. Type in your list of desired keywords, separated by commas. For example, if your post is about our schools and education, use "schools,education" (without the quotes) as your tags.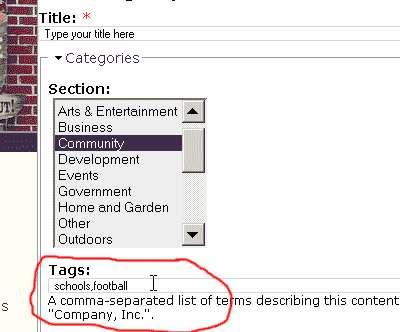 4. Next is a box in which to enter the body of your message. Enter your message; it can be even very long. You can type it in directly or paste it in from your word processor or text editor.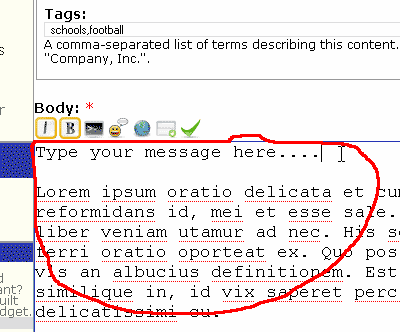 5. Make sure you are a polite front-page article writer; add a "teaser break" code that tells the front-page software where to add a "Read more..." break. Add the "teaser break" a few lines into your message, no more. Usually you would add the "teaser break" at the end of a sentence.
To add a "teaser break:" Click your cursor at the point you want the "Read more..." text to appear. Then click on the teaser break icon in the line of tools icons just above the box for entering the message body. The "teaser break" icon is the second from the right, a tiny pale blue (grey?) horizontal rectangle with a horizontal line through its middle and a little circle at its lower right: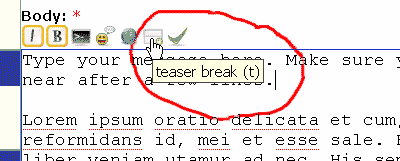 After you enter the teaser break, it will automatically show in your text as a special code (<!--break-->):


6. OPTIONAL. When you are done typing your message, click on the Preview button at the bottom of the page to check it.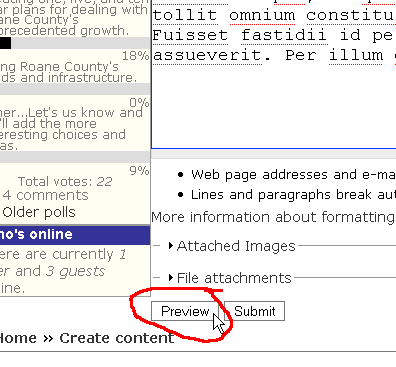 7. When your message looks the way you want it, don't forget to click on the Submit button at the bottom of the page to save it.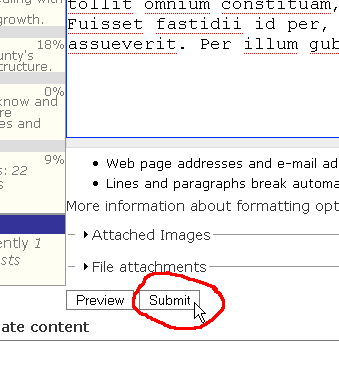 Don't worry; you may always go back and edit it in case you spot a typo later. To edit, click on "edit" under the message.
8. Make sure you go to the RoaneViews.com front page ((link...)) to check your work! You especially want to make sure that you got your teaser break in so that you are a good front-page neighbor. Your message should appear about the size of the others on the front page.
Go back and edit—even a few times if you are like me!—if you see a typo, and then you are done!
-- One Tahiti
Discussing
Lost Medicaid Funding
To date, the failure to expand Medicaid / TennCare has cost the State of Tennessee
?
in lost federal funding.
Brother Websites
Other "Views":
---
Local Interest:
---
Folks that Help:
---
Progressiveness:
---
Local News Media:
---
Local Government:
---
Candidates: